Post by Deinobrontornis on Oct 13, 2011 17:29:48 GMT -5
Leopard - Panthera pardus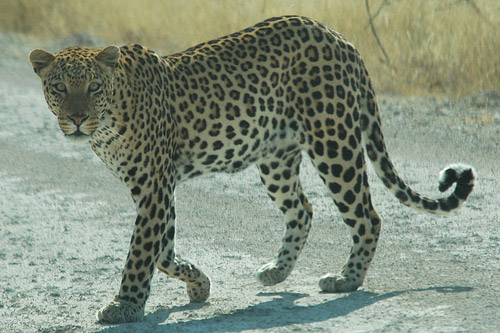 The leopard, Panthera pardus, is a member of the Felidae family and the smallest of the four "big cats" in the genus Panthera. The leopard was once distributed across eastern and southern Asia and Africa, from Siberia to South Africa, but its range of distribution has decreased radically because of hunting and loss of habitat. It is now chiefly found in sub-Saharan Africa.
Leopards are agile and stealthy predators. Although smaller than other members of the Panthera genus, they are able to take large prey due to their massive skulls that facilitate powerful jaw muscles. Head and body length is between 95 and 165 cm (37 and 65 in), and the tail reaches 60 to 110 cm (24 to 43 in). Shoulder height is 45 to 80 cm (18 to 31 in). The muscles attached to the scapula are exceptionally strong, which enhance their ability to climb trees. They are very diverse in size. Males are about 30% larger than females, weighing 30 to 91 kg (66 to 200 lb) compared to 23 to 60 kg (51 to 130 lb) for females. Large males of up to 91 kg (200 lb) have been documented in Kruger National Park in South Africa; however, males in the South Africa's coastal mountains average 31 kg (68 lb) and the females from the desert-edge in Somalia average 23 to 27 kg (51 to 60 lb). This wide variation in size is thought to result from the quality and availability of prey found in each habitat. The most diminutive leopard subspecies overall is the Arabian leopard (P. p. nimr), from deserts of the Middle East, with adult females of this race weighing as little as 20 kg (44 lb). Other large subspecies, in which the males can also weigh up to 91 kg (200 lb), are the Sri Lankan leopard (P. p. kotiya) and the rare, little-known Anatolian leopard (P. p. tulliana). The largest verified leopard weighed 96.5 kg (213 lb), with larger sizes reported but considered unreliable. The leopard's body is comparatively long, and its legs are short.
Leopards show a great diversity in coat color and rosette patterns. Their rosettes are circular in East Africa but tend to be squarer in southern Africa and larger in Asian populations. Their yellow coat tends to more pale and cream colored in desert populations, more gray in colder climates, and of a darker golden hue in rainforest habitats. Overall, the fur under the belly tends to be lighter colored and of a softer, downy type. Solid black spots in place of open rosettes are generally seen along the face, limbs and underbelly.
Cougar - Puma concolor
The cougar (Puma concolor), also known as puma, mountain lion, mountain cat, catamount or panther, depending on the region, is a mammal of the family Felidae, native to the Americas.
Cougars are slender and agile members of the cat family. They are the fourth largest cats and adults stand about 60 to 90 cm (24 to 35 in) tall at the shoulders. Adult males are around 2.4 m (7.9 ft) long nose to tail and females average 2.05 m (6.7 ft), with overall ranges between 1.5 to 2.75 m (4.9 to 9.0 ft) nose to tail suggested for the species in general. Of this length, 63 to 95 cm (25 to 37 in) is comprised by the tail. Males typically weigh 53 to 100 kilograms (115 to 220 pounds), averaging 62 kg (137 lb). Females typically weigh between 29 and 64 kg (64 and 141 lb), averaging 42 kg (93 lb). Cougar size is smallest close to the equator, and larger towards the poles. The largest recorded cougar was shot in Arizona and weighed 125.5 kilograms (276 pounds) after its intestines were removed, indicating that in life it could have weighed nearly 136.2 kilograms (300 pounds). Several male cougars in British Columbia weighed between 86.4 and 95.5 kilograms (190 to 210 pounds).
The head of the cat is round and the ears erect. Its powerful forequarters, neck, and jaw serve to grasp and hold large prey. It has five retractable claws on its forepaws (one a dewclaw) and four on its hind paws. The larger front feet and claws are adaptations to clutching prey. Cougar coloring is plain but can vary greatly between individuals and even between siblings. The coat is typically tawny, but ranges to silvery-grey or reddish, with lighter patches on the under body including the jaws, chin, and throat.
Cougars have large paws and proportionally the largest hind legs in the cat family. This physique allows it great leaping and short-sprint ability. An exceptional vertical leap of 5.4 m (18 ft) is reported for the cougar. Horizontal jumping capability from standing position is suggested anywhere from 6 to 12 m (20 to 40 ft). The cougar can run as fast as 55 to 72 km/h (35 to 45 mi/h), but is best adapted for short, powerful sprints rather than long chases. It is adept at climbing, which allows it to evade canine competitors. Although it is not strongly associated with water, it can swim.