Post by avianaves on Dec 5, 2011 10:29:18 GMT -5
Cinereous (Eurasian Black) Vulture - Aegypius monachus
Scientific classification Kingdom:
Animalia
Phylum:
Chordata
Class:
Aves
Order:
Falconiformes (or Accipitriformes, q.v.)
Family:
Accipitridae
Genus:
Aegypius
Species:
A. monachus
Cinereous Vulture
Aegypius monachus
What does it look like?
Adult cinereous vultures exhibit the typical featherless head of the vulture family. Mature adults have dark brown plumage with bluish gray skin on the head, neck and legs. Their wings are broad with adults having an 8-10 foot total wingspan.
All have a thick and powerful hooked beak that aids in tearing through the tendons and skin of carrion. Strong large feet with blunt talons are used for grasping and holding onto carcasses.They are also known as the European black vulture
Juveniles have black plumage with pink skin on the head, neck and legs
An Adult can weigh up to 28lbs
Similar to other raptors both sexes look alike however males are often smaller than females
Where in the world?
Currently, it is estimated that there are less than 4,000 birds throughout the world. They are found in the mountainous areas of Spain, the Himalayas of India and Tibet, East to North East Mongolia and also into Sudan. Occasionally they will migrate to Southern China and Northern India. They have also been sighted on Mount Everest at altitudes of up to 23,000 feet (4 miles high).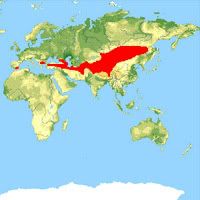 What are some behaviors?
Unlike other vultures
Cinereous are not gregarious and are usually seen in pairs or small groups.
They
will rob other diurnal raptors of food sources due to their size and aggression at areas of feeding.
They have excellent eyesight, which assists them at locating prey from great distances.
In their niche cinereous are at the top of the food chain and have no natural predators other than man.
They have a lifespan of more than 38 years.
What about offspring?
Cinereous usually form a life long pair bond with successful breeding occurring for the first time at 5-6 years of age. Both sexes take part in the construction of a large nest, which is usually found on the tops of large trees or on rock ledges. The nest is reusable with the pair adding more material each year after the first.
After mating a single egg is laid and with proper incubation it will hatch after a period of 50-55 days. Both parents are involved in the rearing of young. For the first 2 months one parent will constantly remain at the nest site to guard and protect the young chick. The parents will regurgitate food and offer it to the offspring with their beak. Young will become fully fledged at 100-120 days of age.
What does it eat?
As diurnal raptors cinereous mainly feed on medium to large sized carrion and have occasionally been observed hunting live prey such as lizards and tortoises.
In recent years a noticeable decline in the availability of carrion has occurred due to a decrease in wild animals and the implementation of modern agricultural practices resulting in better overall health care of domestic livestock.
Their large size enables them to be more dominating than other species of vultures at chosen feeding sites.
In captivity cinereous are fed a commercial meat based diet made exclusively for zoo animals.
They also consume various small rodents and fowl.
Is it threatened or endangered?
Cinereous vultures are severely threatened due to hunting, poisoning, habitat destruction and the reduction of available wild and domestic food sources throughout most of their range. The Living Desert is a participant in the cinereous vulture species survival plan.
www.livingdesert.org/animals/cinereous_vulture.asp